Christmas & New Year Party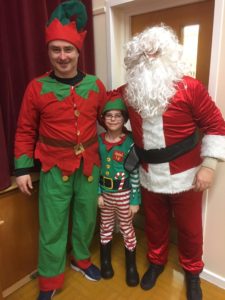 Come along to our fabulous party to celebrate the end of the festive season!
We would like to invite you to our annual New Year Party – the whole family is welcome!
Entertainment comes from the fantastic Garg from Impeyan with his huge selection of animals to marvel at, learn about and touch. Are you brave enough to stroke a python or go eye to eye with an owl?
Party tea is provided with refreshments for the adults and Father Christmas and his Elf helper will make one last appearance before their well-earned holiday in the Bahamas!
Presents for all good children!
Date: Saturday 5th January, 2019
Time: 3.00pm-5.00pm
Location: East Horsley Village Hall, Kingston Ave,
East Horsley, Leatherhead, Surrey, KT24 6QT
Cost: Free, but donations welcome!
Book below; bookings close 20th December. Unfortunately we cannot accept late bookings as Santa and his helpers need time to sort out all the gifts.
NOTE: Book 1 ticket and then you add all your family details into that one ticket.
Please make sure you include all the names AND ages of your children
Please note when booking, there is a glitch in the system we are trying to work out. Book as normal, but once you check out, it will take you back to the ticket page as if you have to input your details again. DO NOT DO IT AGAIN. You will receive an email confirming your booking once you have done it. That is enough and we will have your details on our system.
There will be a BSL interpreter there on the day.
The village hall  is easily accessible via car or train (East Horsley station is a five minute walk away). Travel arrangements are the responsibility of families.
Please email Gabi Stiles (gabriella.stiles@outlook.com) with any queries.
We understand that children can become ill, so please let us know ASAP if you cannot make it. We will have bought and labelled gifts specifically for your child, so if we cannot use them, then that is money from the charity that could be used elsewhere. Advanced notice is always appreciated.
Please note that all children are the responsibility of their parents or carers at all times.